RESEARCH
Over the past few years, the Branch has been able to support significant research into threatened moths in our region.

A £24,000 grant from English Nature funded a three year research programme into the autecology of both the Buttoned Snout and Square Spotted Clay moths.

The Branch has also been in a position to support the research of Dr Zoë Ringwood of Writtle College into her extensive work on the Fisher's Estuarine Moth. Financial contributions so far total £3,000.
White-spotted Pinion in Cambridgeshire
Butterfly Conservation has been successful in obtaining a grant from SITA Trust (landfill tax) for the project 'Managing Elm for White-spotted Pinion Moth'. The project has also secured match funding support from Cambridgeshire Biodiversity Partnership, Cambridgeshire County Council and the Cambridgeshire and Essex branch of Butterfly Conservation. The project officially began on 1 June 2010 and will continue until 31 May 2012.
The White-spotted Pinion is well known from several woodlands in Cambridgeshire and Huntingdonshire and this area is recognised as the national stronghold for the species. However, this project will concentrate on shelter belts and hedgerow habitat especially along public rights of way, railway lines and road boundaries where the moth is also found but less well known and potentially under more threat. The project will involve survey work to identify areas with surviving elm trees that might support the moth and organise tree planting events to plant trees grown from mature elms in the Huntingdon area as well as sucker growth.
Although the project will focus on White-spotted Pinion this project is recognised as an opportunity to collect information and implement habitat management for other threatened species in the area including the Grizzled Skipper and White-letter Hairstreak butterflies (UKBAP Priority species), Black Hairstreak (LBAP) and Goat Moth a new UKBAP Priority moth. There are colour factsheets available for all these species except the Goat moth on the Butterfly Conservation website.
Target areas include
Over, Histon, Longstanton, Wilburton, Coton, Madingley, Witchford, Rampton and Landbeach
plus several other sites in Huntingdonshire.
Volunteer help is needed to help locate promising stands of mature elm and to undertake survey work at sites already identified. Please get in touch if you think you can help.

Sharon Hearle
Tel: 01638 731648 (leave a message)

FIGURE 1: GEOGRAPHICAL CONTEXT OF WHITE-SPOTTED PINION SITES COMPRISING THE CAMBRIDGESHIRE FENS LANDSCAPE
Pink line indicates landscape boundary of the Cambridgeshire Fens. Sites highlighted blue already support the White-spotted Pinion and sites marked red have the potential following appropriate management.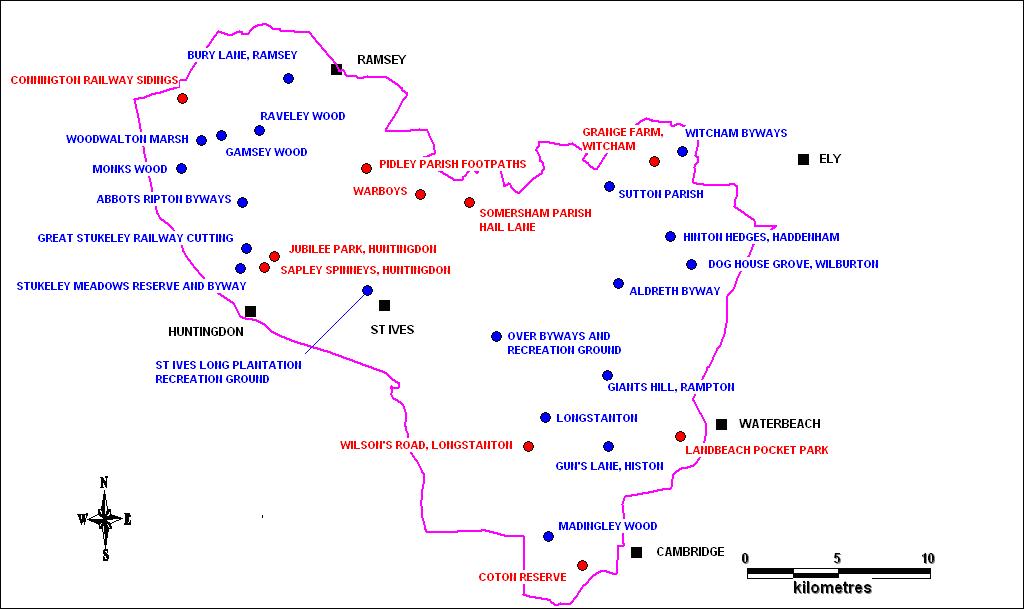 FIGURE 2: EXAMPLES OF REQUIRED MANAGEMENT ON SITES NEAR HUNTINGDON
Sites highlighted blue already support the White-spotted Pinion and sites marked red have the potential following appropriate management. On linear sites (e.g. byways and railway cuttings), breeding and potential habitat occurs in several sub-sites whose approximate locations are represented by separate circles.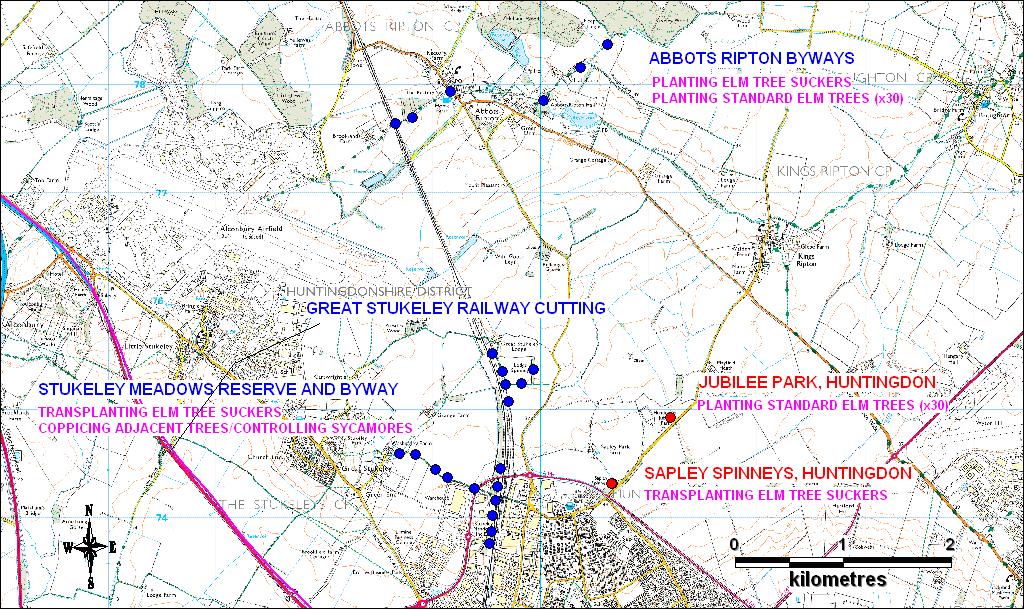 ---
Green Hairstreak on Fleam and Devil's Dyke - 2010
Phil MacMurdie is undertaking a project (with all the necessary permissions and support etc.) into the ecology of the
Green Hairstreak
on the
Fleam Dyke
and
Devil's Dyke
. All sightings of
Green Hairsteak
are therefore especially welcome from these two sites.
Observers are asked to note the following:
Observer's name and contact details
Location details (six figure grid reference e.g. TL618614) and/or location description)
Date and time
number of individual Green Hairstreaks seen (please be as accurate as you can and avoid double counting and references such as 'several', 'lots', 'less than 5', etc.)
As part of the research, Phil will be marking some butterflies and accurate details of any marked butterflies will greatly add to the worth of the project.
Marking System
Phil will be marking Green Hairstreaks with dots and lines:

only on the visible sides of the fore and hind wings (i.e. the underside as GH rarely, if ever, rest with wings open)
usually only on one side
individual butterflies may have dots only OR dots and line(s) (dependent on if he run out of combinations)
Marked Green Hairstreak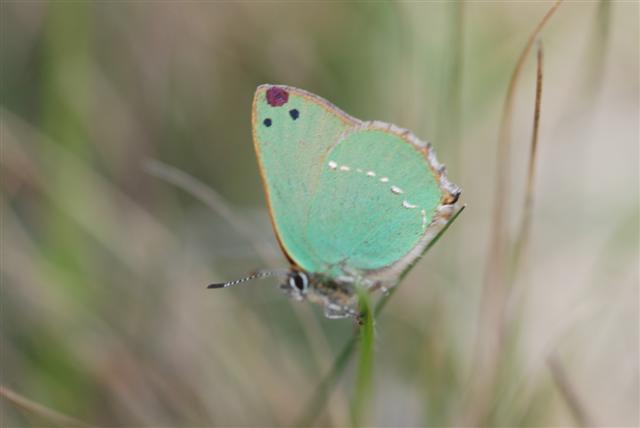 Marked Green Hairstreak
Devil's Dyke
24th April 2010
© Phil MacMurdie
Phil needs the colour and position of dots and/or line(s) relative to the wing.
In the example shown above, the butterfly has three dots on left forewing; a large dot at apex and 2 small dots beneath (large dot in case of colour run). Recording 'just three dots' is unlikely to be enough.
| | |
| --- | --- |
| Field Note Diagram of Marked Green Hairstreak | |
| | This extract from Phil's field notebook shows a Hairstreak with one small blue dot at top apex of right forewing and two small dots to the rear; at the top and the tail of right hindwing. |
| © Phil MacMurdie | |
So, in summary, in addition to the normal sighting details, observers are asked to note and send in the following information on any marked individuals:
Number and position of dots and/or lines on forewing and/or hindwing
Colour (choice of blue, purple, red and orange)
Side (usually one one side left or right hand side; but may resort to both sides later in the project)
Please e-mail all details to
---
Grizzled Skipper in Essex
(The following article appeared in Branch newsletter No.52 February 2007)
The area south of Basildon is now the only place in Essex where the rapidly declining Grizzled Skipper can still be found. It is a candidate UK BAP Priority species and benefits from careful management to maintain its preferred habitat.
Grizzled Skipper Sites at Langdon Hills

The best known area for the butterfly is a handful of unimproved hay meadows at the Willow Park area of Langdon Hills Nature Reserve managed by the Essex Wildlife Trust.

There is another meadow near One Tree Hill at Langdon Hills CP managed by the Thurrock Council where the butterfly has been recorded recently.

Basildon District Council commissioned a phase 1 habitat survey which was complete in 2005 and resulted in the designation of 45 County Wildlife Sites.

It is also possible that a number of brownfield sites could have ideal habitat and may have provided a refuge for colonies as other old meadows and habitats have been lost to lack of management or succession with shrubs and trees. Railway sidings and industrial areas have been shown to support Grizzled Skipper colonies elsewhere in the eastern region.



© Reproduced by kind permission of Ordnance Survey on behalf of the Controller of Her Majesty's Stationery Office © Crown Copyright.
All rights reserved. Licence number AL100015237
The regional officer will be targeting the Basildon area in may and hopes to recruit as many volunteers as possible. There is only a very short flight season for this species and we will need all hands on deck for what is usually a relatively few sunny days in May when survey work is ideal.
There are still copies of the Grizzled Skipper leaflet available which gives lots of information. If you would like a copy or think you can help with the survey (or even become its
'Champion'!
) please get in touch with Sharon Hearle (details below).

Sharon Hearle
c/o Busy Bee
21 High Street
NEWMARKET
Suffolk CB8 8LX
Tel: 01638 731648
| | |
| --- | --- |
| Grizzled Skipper Basking | Grizzled Skipper Nectaring |
| | |
| © Photo: Vince Lea | © Photo: Vince Lea |
---
Fisher's Estuarine Moth
***Latest News - August 2008***
Click here to download the latest Project newsletter (2.5MB)
which includes
news of a captive breeding programme at Colchester Zoo.
Introduction
Fisher's Estuarine Moth

The Walton Backwaters area of the North Essex coast is the main stronghold for Fisher's Estuarine Moth, one of Britain's rarest and most highly threatened species.

The moth inhabits areas of low-lying coastal grassland where Hog's Fennel, its sole caterpillar foodplant, grows. Both Fisher's Estuarine Moth and Hog's Fennel are species of high conservation priority due to their restricted distribution and the threatened nature of the sites where they are found.

The key site for both species is Skipper's Island, which is severely threatened by flooding as a consequence of sea level rise and deteriorating sea walls. Certain areas of Hog's Fennel on the island have already been lost to coastal erosion and salt marsh encroachment and complete inundation at some point in the future is inevitable.

Consequently, the moth will almost certainly be lost from this site and the remaining sites may be too small to support a sustainable population.

© Photo: Micky Andrews
Conservation Action
To ensure the long-term future of Fisher's Estuarine Moth in Essex it is essential that secure sites be created away from the dangers of flooding.

Rising sea levels are resulting in flooding, salt marsh encroachment and erosion at the main site for the moth in Britain.

It is thought that a single surge tide could result in the extinction of the species at this site.

This picture shows how vulnerable some of the moth's habitat is.

Hog's fennel plants are just above sea level and evidence of soil erosion can be seen at the water's edge.


© Photo: Zoë Ringwood
Extensive research into the life history and habitat requirements of the moth and trials to create secure sites for the species has been conducted in recent years.
Volunteers from the Essex and Cambridgeshire branch of Butterfly Conservation came to the North Essex coast in each January of 2005, 2006 & 2007 to plant-out several thousand Hog's Fennel seedlings.
Click here
to see the report of the final January 2007 visit to Kirby-le-Soken.
The majority of seedlings are growing well and we are now at the stage where we can put the results into action on a larger scale.
In April 2006, a two year landscape-scale conservation project commenced that will develop a programme to enable farmers/landowners to receive support for creating and managing sites for the moth through the Higher Level Stewardship (HLS) agri-environment scheme.
Project objectives
The project aims to set-up a sustainable landscape-scale network of interconnected sites for Fisher's Estuarine Moth that are secure from the threats of flooding within the moth's natural range on the north Essex coast. The project will develop a ready-made package for conserving the moth whilst promoting and increasing the take-up of the HLS scheme.
The main project objectives are as follows:
Develop a programme for the conservation of Fisher's Estuarine Moth through the HLS scheme.
Set-up a system for growing and supplying Hog's Fennel plants and seeds
Promote the project to potential farmers/landowners.
Provide advice and assistance to farmers/landowners in the take-up and implementation of the programme.
Continue and develop monitoring programmes at sites created for the moth.
Translocate the moth to sites where appropriate.
What does the moth need to survive?
Fisher's Estuarine Moth requires areas of rough grassland containing Hog's Fennel.


The optimum habitat for the moth comprises an abundance of both Hog's Fennel and long, coarse grass species, such as Couch, Cock's-foot and False Oat-grass.


At least 25% ground coverage of such grass species are required to fulfil the moth's egg laying requirements.



© Photo: Micky Andrews
Habitat Creation
Habitat for Fisher's Estuarine Moth can be created by planting Hog's Fennel seedlings into areas of established grassland which support an abundance of the long coarse grasses the moth requires for egg laying.
Alternatively, the moth's habitat can be created from bare ground by drilling an appropriate grass seed mix, followed by either drilling Hog's Fennel seed or planting Hog's Fennel seedlings.
To protect the seedlings, all sites must be enclosed by a rabbit-proof fence, together with cattle/sheep fencing where necessary.
Project Funding
For the first 2 years, the project was funded under the England Rural Development Programme (ERDP) by the Department for Environment, Food and Rural Affairs (DEFRA) and the European Agricultural Guidance and Guarantee Fund. Other contributors and supporters were the Environment Agency, Natural England, Writtle College, the Cambridgeshire and Essex branch of Butterfly Conservation and Tendring District Council.
In addition to providing funding for the current project, the Cambridgeshire and Essex branch of Butterfly Conservation have provided annual financial assistance to conservation work on Fisher's Estuarine Moth since the year 2000.
Contact Details

Alan Roscoe
Writtle College
Chelmsford
Essex CM1 3RR
Tel: 01245 424200 (ext 4134) or 07772 099568
Life History of Fisher's Estuarine Moth
| | | | |
| --- | --- | --- | --- |
| Hog's Fennel | Mating | Ovipositing | Freshly Laid Eggs |
| | | | |
| Photo © Zoë Ringwood | Photo © Micky Andrews | Photo © Micky Andrews | Photo © Micky Andrews |
Fisher's Estuarine Moth lays its eggs beneath the outer leaf sheath of long, coarse grass species, such as Sea Couch, Cock's Foot and False Oat-grass.

The species is in the egg stage for seven months of the year, from September/October right the way through to the following April/May. The only plant that the caterpillars will eat is Hog's Fennel, so when the eggs hatch in the spring, the caterpillar must quickly find a plant of this species if it is to survive.

The caterpillars are stem borers; they feed first within the stems of Hog's Fennel (May to June) and then below ground within the plant's rootstock (June to August). In July, sawdust-like frass 'volcanoes' can be found at the base of plants supporting a feeding caterpillar. The species pupates underground in a bored-out tunnel between the rootstock of Hog's Fennel and the surrounding soil during August/September.

Pupation lasts for approximately one month. The adult moth emerges during September/October and the flight period lasts for approximately eight weeks. The species does not feed as an adult and individuals live for only a week or so, just enough time to mate and lay eggs.
| | | |
| --- | --- | --- |
| Larva Emerging from Egg | Mature Larva | Pupa in Tunnel |
| | | |
| © Photo: Micky Andrews | © Photo: Zoë Ringwood | © Photo: Micky Andrews |
. . . and finally
The Magnificient Adult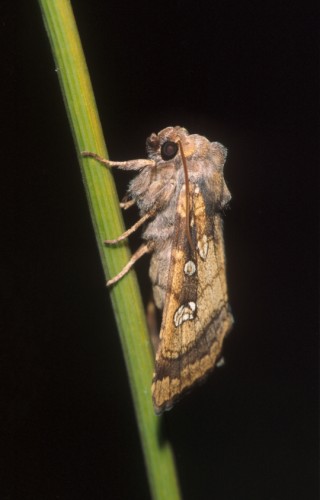 © Photo: Micky Andrews

---
Four-Spotted Moth
Sharon Hearle, BC's East of England Regional Officer, has been working on this small day-flying moth since 2005.
Four-spotted Tyta luctuosa: East of England Survey 2005-2008
Summary:
The Four-spotted Tyta luctuosa is a distinctive day-flying moth that occurs very locally on calcareous sites in southern England. It is a Priority Species in the UK Biodiversity Action Plan. This report summarises surveys for the moth in the East of England region undertaken between 2005 and 2008. The moth was discovered at four sites in Cambridgeshire, eight sites in Essex and one site each in Bedfordshire and Hertfordshire. The moth was abundant at several sites in close proximity at Great Chesterford suggesting the Four-spotted occurs as a metapopulation across this landscape. Successful nocturnal searches for larvae were undertaken in July 2007 at one site in Cambridgeshire.
The Cambridgeshire/Essex border around Great Chesterford was confirmed as a stronghold for the Four-spotted moth in the UK. Several new sites were found for the moth during this survey and was been shown to persist along railway corridors in the East of England Region where open ground is maintained by regular disturbance.
The species appears to respond quickly to developments where suitable conditions for the moth are created such as road schemes, building sites or new reservoirs although these can be short lived. Agri-environment schemes with 6 metre cultivated field margins offer significant potential for this moth.
Recommendations for survey of other promising sites are made, especially in Bedfordshire and along railway corridors leading to Peterborough.
Click here
to download the full 32 page report (2.3MB file size).
Additional Information:
Making tracks for the Four-Spotted
- Article authored by Sharon Hearle 2006
New Sites for Four-Spotted Moth in Cambs, Essex & Suffolk
- Article authored by Sharon Hearle October 2005
Four-Spotted Information Sheet
- free download
If you do not have a PDF file reader, then click this image for a free download:

For further details please contact:

Sharon Hearle
c/o Busy Bee
21 High Street
NEWMARKET
Suffolk CB8 8LX
Tel: 01638 731648
---
Chalk Carpet
Sharon Hearle's work and surveys on the Chalk Carpet has culminated in the publication of a comprehensive report.
Chalk Carpet Scotopteryx bipunctaria: East of England Survey in 2006 and 2007
Summary:
The Chalk Carpet Scotopteryx bipunctaria is a distinctive moth that occurs very locally on calcareous sites in southern England and Wales. It is a Priority Species in the UK Biodiversity Action Plan. The moth has undergone a considerable national decline the reasons for which are not fully understood.
This report covers the discovery of the moth at four sites in Cambridgeshire and five sites in Bedfordshire. At several sites the moth was abundant. Five sites were either working or recent chalk quarries with significant areas of bare chalk. Efforts to find the moth at former known sites in Cambridgeshire, Essex and Bedfordshire were unsuccessful possibly due to the more closed nature of the chalk grassland sward. Recording effort in the past has concentrated on re-visits to former sites.
There are recommendations for other promising sites to survey in the future, in particular extensive former chalk quarries at Steeple Morden in Cambridgeshire, Houghton Regis in Bedfordshire and Pitstone Quarry on the Hertfordshire border plus newly created areas of bare chalk such as the Baldock Bypass in Hertfordshire.
Conservation work for Chalk Carpet is likely to benefit the Small Blue butterfly
cupido minimus
which was found at 5 sites with Chalk Carpet. The presence of Small Blue at a site is also a good indicator that Chalk Carpet might be present.
Click here
to download the full 32 page report (2.0MB file size).
---
Grass Margins
Authored by Vince Lea – October 2005
Many field margins have been converted to grass for wildlife, but are they the answer to our declining farmland butterfly populations?
Grassy habitats should benefit a number of our common butterflies – particularly the 'browns' & 'skippers', whose caterpillars feed on grassy leaves. Butterfly adults, however, are also need nectar sources, and the browns & skippers live in closed colonies, unlike 'cabbage' whites etc. which will travel great distances between nectar sources and egg-laying sites.
Field trial at RSPB Hope Farm

Most of the field margins funded through Defra's Environmental Stewardship schemes have been sown without any nectar plants, and using vigorously competitive strains of grass originally bred for agriculture, which do not offer much chance for native broadleaves to establish within the grass.

To address this issue, Vince Lea, Bill Jordan and Robin Field of the Cambridgeshire & Essex Branch of Butterfly Conservation, part-funded by the Chadacre Agricultural trust, set up various experiments at the Royal Society for the Protection of Birds (RSPB) experimental farm in Cambridgeshire (Hope Farm).

© Photo: Vince Lea
We are interested in finding out if standard grass margins can be improved through the selection of the most suitable variety of grass, in particular whether wild-collected seed of grass species creates better wildlife habitat than cultivated varieties, and whether the inclusion of flowering plants improves the habitat.
Replicated experiments were set up in Spring 2004, using either cocksfoot or red fescue single varieties around the margins of fields at Hope Farm. Monitoring started in 2005. The single grass varieties were mixed with 20% flowering plants 9Red Clover, Oxeye Daisy and Knapweed) to attract butterflies as quickly as possible, and to determine the interaction between the different grass varieties and broad-leaved plants.
During the summer flight period, there was a marked difference in numbers of butterflies between the grass species, with Red Fescue having about twice as many browns & skippers as Cocksfoot plots. The 5 cultivars of cocksfoot were generally down on numbers of adults compared to plots sown with wild origin seed, which performed almost as well as the fescues. There were differences in the habitat conditions, some of which may explain the differences in butterfly numbers; the fescue plots had less grass cover and were shorter, compared to cocksfoot, allowing far more of the flowering plants to prosper, so nectar availability was much higher on these plots.
A second set of experiments has been established to study the overall effect of adding flowering plants and the effect of using wild origin compared with cultivated origin material. For this experiment, 50m long margins were created for each of the following mixes:
Pure cultivated grasses (5 species)
Pure wild grasses (8 species)
Same cultivated grass varieties plus cultivars of flowering plants (9 species)
Wild grasses plus wild flowering plants (18 species)
These plots were replicated 6 times to give a very large experimental resource. The plots were monitored for adult butterflies this summer (2005) and showed a higher number of butterflies on the plots with added flowers. Cultivated grasses + flowers had about 10% more butterflies than straight grass, but wild grasses + flowers showed an impressive and highly significant four-fold increase above the cultivated + flowers margins. Seven butterfly species showed higher numbers on the wild origin grasses + flowers plots, while on the cultivated + flowers plots the only species to show a significant gain was the Small White. Nocturnal searches for caterpillars did not give enough data to be valid.
| | |
| --- | --- |
| Nocturnal Hunting at Hope Farm | Has JD found another Square-spot Rustic larva? |
| | |
| © Photo: Vince Lea | © Photo: Vince Lea |
Adding flowering plants to grass margin mixes or use of wild-collected grass seed instead of cultivars will clearly increase establishment costs. Our research therefore hopes to find out whether such costs coul be justified by the benefits to wildlife. The larger mixed plots show the importance of adding wildflowers to margins, and also demonstrate that the lower dominance of wild grasses allow added flowers to perform their role as nectar sources more effectively than cultivated grasses do.
We would love to hear from any members who could help with the continued caterpillar monitoring in 2006 – notice of dates will be provided in the next newsletter. We are very grateful to the many volunteers who helped with the caterpillar hunting this year, particular thanks go to John Dawson for his identification skills.
Note from Editor: This article has been taken from Branch Newsletter No.48 published in October 2005
Here are some of the larvae found on the various searches:
| | | |
| --- | --- | --- |
| Meadow Brown | Angle Shades | Square Spot Rustic |
| | | |
| © Photo: Vince Lea | © Photo: Vince Lea | © Photo: Vince Lea |

---
Buttoned Snout
Click here
to download an
INFORMATION SHEET
.
(WARNING! This is a very large file (1.8MB, PDF file), so you may want to "right-click", select "Save Target As ..." and save it to your local disk).
Click here
to download the final
RESEARCH REPORT
.
(WARNING! This is a large file (0.2MB, PDF file), so you may want to "right-click", select "Save Target As ..." and save it to your local disk).
If you do not have a PDF file reader, then click this image for a free download:

In addition, we have below included two articles of interest. The first is written by Paul Waring as background into the research being conducted and the second is authored by Don Down, who recounts his experience of studying adults over the winter and spring of 2005.
The Buttoned Snout
Authored by Paul Waring
Study of this moth this year centred on observing the life-cycle in a large outdoor cage to investigate key aspects of behaviour and ecology such as overwintering, mating, nectaring, egglaying and larval feeding. Additional field survey work was undertaken in Essex, where larvae have now been found in most 10km squares, and in Cambridgeshire.
Indications from work in 2002 and 2003 that populations are mainly in the south of Cambridgeshire, and are much more thinly distributed than in Essex, have been confirmed. For example two larval searches (on 25 July & 11 August 2004) of a large stand of the foodplant (Hop Humulus lupulus) in the north of the county between Etton and Glinton (modern Cambridgeshire but vice-county Northamptonshire) proved negative, for the second year running (see also Ent. Rec. 116: 77-78). Another substantial stand at Maxey was searched on three dates (13 & 25 July & 11 August 2004), for the first time, and also produced negative results.
Discovery of larvae during a BENHS field meeting led by Paul Waring in the grounds of London Zoo on 17 July 2004 was one of the highlights of this event and was reported in an illustrated article in Lifewatch, the magazine for members and supporters of the Zoological Society of London (Autumn 2004: 4). This is the first UK BAP species to be recorded wild in the Zoo and the first time that invertebrates other than butterflies have been surveyed there.
The observation cage was erected at Writtle College, Essex, as part of a joint project between the College and Butterfly Conservation Cambridgeshire & Essex Branch. Graham Watkins, with some assistance from Robin Field and others, spent a great deal of time watching adult moths that were placed in the cage and searching for the eggs, larvae and pupae that resulted.
Observations indicated that the adults were mainly active around dusk and much less so after dark. Nectaring was never seen, despite placing a range of seasonal flowers freshly gathered from the college estate alongside the potted Hop plants. The adult moths hardly roused from hibernation when the sallows were in bloom in March and did not appear to be tempted when Blackthorn and Hawthorn flowers were added later on. No mating was observed and individual moths tended not to roost alongside each other. Although plenty of larvae were produced in the cage, no egg-laying was seen. No eggs were found in searches of the undersides of growing Hop plants, suggesting they are either tucked out of sight on the plant - perhaps into the leaf axil - or on surrounding debris.
A hibernating individual is currently under observation in an old garage, the third year running that this building has been used, and a roost with a large number of adults in a war-time gun emplacement has been visited, but even here adults tend to be dispersed singly on walls rather than in association.
Paul Waring
January 2005
---
Breeding Rostralis – The Buttoned Snout
Authored by Don Down October 2005
After many visits to a hibernating site of the Buttoned Snout over the past year I have found how restless the moths can be, for number can vary tremendously from visit to visit even during a constant spell of cold weather. So this year I decided to collect a few moths and try and watch over them during the winter of spring of 2005.
January 23rd 2005 I gathered just six moths from a count of forty-two, 3 females and 3 males were placed in a prepared wintering cage at home. All moths settled in and hibernated in dead leaves at the bottom of the cage. One or two would appear occasionally during February when weather conditions were mild; otherwise little was seen of the moths until well into March.
Serious study began March 17th. During the milder evenings of March 18th, 19th the 6 moths in a cool hibernating cage where they had overwintered became quite restless. On the afternoon of March 22nd I slipped a couple of stems of freshly opened male catkins of Great willow into the cage and by 22:00 hours all six moths were nectaring well from them.
>br> March 27th – the moths moved around between dusk and 22:30 and by 23:00 hrs had all disappeared back into the leaf litter at the bottom of the cage.
March 28th – 31st; Little or no movement depending on temperature
April 1st – 4th; Some movement, mostly just after dark
April 5th – 8th; No movement – rather cold
April 9th; Moths crawled out from leaves
April 11th – 12th; Very mild evenings – moths very active
April 13th – 23rd; Rather cold conditions – no moths seen
April 24th; Moths re-appeared and were quite restless
April 25th; Moths were given a little sugar water, which they enjoyed for the next couple of evenings
April 27th – May 2nd; Moths appeared but were very sluggish as colder conditions returned
May 3rd; Warmer conditions returned and all 6 moths were very active
May 4th; 3 shoots of hop placed on a small bottle of water and was put into the cage
May 5th, 6th & 7th; Moths very active
Buttoned Snout

The moths appeared most evenings according to the weather and temperature, but no pairing was observed up to 23:00 each evening. On 26th May all six captive moths were released near a local established hop plant; three males and three females.

On closer inspection of hop shoots, 24th May, a number of eggs were found both on top of young leaves and some beneath. Ova hatched sometime between 25th and 26h May, first skin change 3rd June, second skin change 7th June.

Larva grew quickly and by 18th June they were in their penultimate skin change. Larva began to spin up amongst debris and the first pupa was noticed on July 2nd. The first moth emerged July 16th followed by the rest over the next few days, during a spell of very warm weather.

© Photo: Vince Lea
Don Down
October 2005
Note from Editor: This article has been taken from Branch Newsletter No.48 published in October 2005

---
Square-Spotted Clay
The main high-lights of work on this moth in 2004 were the discovery in March of wild larvae in Wester Ross, Argyll, Essex and Hertfordshire, all for the first time ever (Brit. Wildlife 15: 361-362 and Ent. Rec. 116: 275-277). The larvae in Scotland were found as part of a BENHS-sponsored survey of sites where adults had been recorded in recent years and are the first larval records for the whole of Scotland.
This survey was undertaken by Robin Field and Tim Gardiner (of Writtle College) with assistance from local BC staff and others. A total of three larvae was found, two on 22 March on Primrose Primula vulgaris in Wester Ross and one on 26 March on Dog's Mercury Mercurialis perennis in Argyll. The adult moth has been recorded from a very wide scatter of sites in Scotland and some of these sites were searched without success during the survey.
Paul Waring and Robin Field mounted the first successful search in Essex on 15 March, joined by members of the Moth Groups of Essex and Hertfordshire who subsequently used their newly acquired skills to find six larvae in a site in Hertforshire on 16 March (Jim Reid) and two in another site in Essex on 17 March (Ted Ponting).
Efforts were made to observe the behaviour of wild females in their natural habitat. A group led by Paul Waring & Robin Field confirmed that mated females as well as males visit flowers for nectar at dusk. On the evening of 11 August a total of six Square-spotted Clay, all in fresh condition, were observed nectaring at flowers of Teasel Dipsacus fullonum at Overhall Grove, Cambridgeshire. The six included three males and three females. Fertile eggs were subsequently laid by one of the females in isolation, confirming that she was already mated. Access to such flowers may improve the suitability of sites as breeding grounds. Unfortunately, no egg-laying was seen during nocturnal observation sessions in August and no eggs were found subsequently in day-light searches. Possibly the searches in 2004 were slightly too early because the year was not as advanced as 2002 and 2003.
At the time of writing, larvae are already showing some activity, with the first feeding of 2005 observed on 10 January on Ground-ivy Gelechoma hederacea at Fulbourn Fen nature reserve, Cambridgeshire (John Dawson).
Paul Waring
January 2005
| | |
| --- | --- |
| | |
| © photo: Vince Lea | © photo: Vince Lea |
Click here
to download an
INFORMATION SHEET
(0.6MB, PDF file).
Click here
to download the final
RESEARCH REPORT
(0.2MB, PDF file).
If you do not have a PDF file reader, then click this image for a free download:


---